Representative Cases
Wrongful Death
Car Collision: In the mid-90s I represented a young family involved in a
horrific head-on collision which killed the husband/father and the other driver who crossed over the center line. The wife/mother and her young child were severely injured. While it was clear that the other driver was at fault, there were issues involving insurance coverage on both vehicles, and family issues due to the husband/father's children from a prior marriage. All of the legal issues were addressed and solved to my client's benefit and we maximized the recovery which was substantially more than what was offered or thought to be available. Contact Us Now.
A passenger in a car was involved in a head-on collision when another vehicle (phantom vehicle because it left scene), in the right lane traveling in the same direction drifted into the lane. The driver reacted by yanking the steering wheel left and hitting another vehicle head-on. Passenger suffered major internal injuries an a long period of recovery. This case involved knowing insurance law to make claims that maximized recovery based on liability coverage and uninsured motorist coverage for the negligent actions of the phantom vehicle that started this chain of events.
Bicycle: I represented the widow and family of a pilot who died in a bicycle accident. This man in his mid-50s had flown his airplane to one of Hawaii's other islands which he routinely did for work. He the
n would ride his bicycle to his appointments. On a late evening this man was riding his bicycle back to the airport on one of the island's rural, dark and deserted streets. His eyes were fixated on two automobiles speeding off in front of him in what was later found out to be a drag race. This bicycle-pilot traveling so quiet down the road did not see the group of young people congregated on the dark roadway, and they did not see him either, as everyone was staring at the two cars racing off in the distance. The man contacted one of the pedestrians in the roadway, was knocked from his bicycle, and struck his head on the roadway and curbing. He died at the scene from massive head injuries. This case presented a number of difficulties. It occurred in a rural area and the facts of how it occurred were not initially revealed. My office had to do extensive scene and witness investigation. A number of the young people were minors, and this, as well as the road racing raised insurance and liability issues.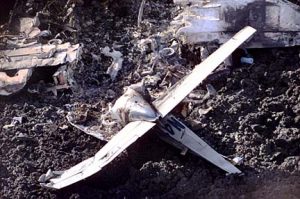 The case was litigated both in state and federal court, ultimately settling favorably for my clients.
Airplane: A man who worked as a tour operator and travel agent was given a free ticket to experience a sightseeing tour. The small commercial airplane crashed in a lava field and the 11 passengers and pilot died. My firm was hired by the mother of his minor daughter. They had never been married and the man was divorced with other children. My job was to protect the interests of this young minor child and to help determine responsibility. Most airplane and helicopter cases involve the issue of whether the collision was caused by a mechanical failure or pilot error. While the FAA does an extensive and in depth analysis, an attorney reviews these issues too. In this case, one of the bigger issues was determining how to fairly address the claim issues between the multiple children by different mothers. My firm was able to favorably resolves the issues and obtain a structured settlement to provide a significant income stream for the minor of this deceased man.
Car Collision: Shortly before high school graduation a boy got access to a car his mother used. The car had been rented from a rental agency. He took the car out one night and offered to drive other boys home from a party where there had been drinking. He was an inexperienced driver, had been drinking, and was speeding. The boy lost control of the car flipping it numerous times and hitting a stationary object. He and another boy died at the scene. The two other boys were ejected from the car. Issues arose about insurance, permissiv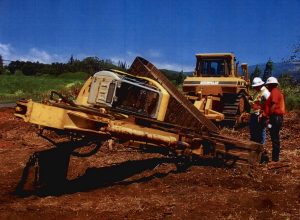 e use, and responsibility. My firm represented two of the passengers (one who lived with significant injuries and other who died), and was able obtain a recovery.
Construction: An equipment operator handling a 50 ton excavator machine that scrapes up dirt, was injured when the machine he was operating hit an abandoned cesspool that was never filled up. The excavator slammed sideways and the Operator required low back surgery for fusion of his vertabra in his spine. The large commercial land owner had reason to know that cesspools had been there and was found to be responsible.
Pedestrian: My firm represented the family of a pedestrian tragically run down by a motorist shortly after midnight New Year's Eve festivities. The man had been at a family party and decided to take a walk. He had been drinking. The weather was rainy and inclement. The motorist had been called in to work on an emergency and in the haste of getting to work, hit my client from behind, killing him at the scene. The case involved a number of issues and required a forensic accident reconstruction to determine a number of factors and achieve a recovery for our clients.
Other Cases
Dram Shop: A dram shop claim involves a business that serves too much alcohol to a patron who then later hurts someone else due to their intoxication. My firm represents a bicyclist who was hit by an intoxicated driver. The case has involved investigation and facts to establish the driver's intoxication, that it happened at a liquor serving establishment, and that the person was over served.
Negligent Security: I represented a young man and a young woman that were severely injured when a fight broke out at a nightclub. They were innocent bystanders. Each of them suffered multiple broken bones with the young woman suffering permanent head injuries. Through investigation and case work, we were able to establish that the nightclub promoted a music event and then failed to have enough workers and security personnel. We showed that they violated both their own standards and legal requirements. My clients obtained a significant recovery.
Defective Product: A doctor visiting Maui suffered a severe ankle fracture when his modified rental motorcycle crashed. My firm helped him in a products liability case where we litigated the issue of whether the motorcycle was improperly modified, contributing to a decreased stability, causing the collision. The case was litigated successfully.
Military Personnel: My firm has represented military personnel on Oahu (Honolulu) for their car accidents. In one case, I represented a young man involved in a complicated sequence of collisions. Another car was hit by a big truck changing lanes. This car was pushed into my client's car. He pulled the car over onto a narrow shoulder and when he got out of the car to inspect it, another vehicle plowed into it pinning the young military man between the car and a concrete wall. The case involved multiple layers of insurance, dealing with permanent injuries, and the sometimes cumbersome policies of the military. We were able to obtain a significant recovery for this young man and marshal him through treatment which helped him stay in his military job and not be disqualified for disability.
Hotel Bathroom: I represented a corporate president who hurt himself after slipping on a wet marble floor upon exiting a deep bathroom bathtub. The fall caused a significant shoulder injury and we were able to show both the cause of the injury and its effect upon this individual, to obtain a recovery.
Parking Lot Curbing: A man had taken his wife out for dinner on a special occasion and he tripped on curbing outside of the restaurant. He suffered multiple fractures in his wrist and arm. This commercial property facility built a long time ago, has a series of curbs in front of the shops which appear to be steps. We were able to show that the curbing did not conform with state or national standards given the varying heights and tread (horizontal surface of a step) of the curbing. Because of this, my client was compensated for his injury.
Negligent Tour Operator: My firm represented a visitor who suffered multiple facial lacerations when he fell onto lava rock at a park on top of one of our state mountains. The man signed up for a bicycle tour which brought him to the top of a mountain in the early morning dark hours. He needed to go to the bathroom after they arrived on top of the mountain. We were able to show that he fell due to a lack of lighting and hypoxia (lightheadedness from thinner air at elevation), and that a tour operator should have done more for it's patrons.
Boating and Maritime: I have helped people in boating accidents. One man was injured when traveling on a tour sailboat, it hit rough water and standing by the mast, he fell through a hatch by the mast. He suffered multiple broken bones. Another man fell down the stairway from the second story of a boat when it hit rough water. He suffered head injuries and other broken bones. My firm was able to obtain recoveries for both these injured people.
****Please note that these are only a small portion of the cases I have handled and from time to time I have handled highway cases; police misconduct and other cases. I have even represented a family in a prison suicide case against the state. Email or contact me if you have questions about your personal injury case.